Looking for a new look for your Diesel Truck...we carry Falken WildPeak AT & MT tires.  Falken Tires, are known as a leader in high performance tire technology for cars, trucks, SUVs and crossovers, and have successfully built a reputation as a full-line tire manufacturer with a long history of delivering high quality, high value products.
WILDPEAK A/TW3
All-Terrain, Any-Weather Rugged Capability
The WILDPEAK A/T3W is engineered for adventure, any time and in any weather. The A/T3W combines aggressive off-road ability and rugged terrain driving without compromise on the pavement. An optimized tread design combined with a silica tread compound enable the A/T3W to excel in three areas: wear, winter, and wet performance. Designed for severe snow conditions, every A/T3W tire is qualified by the Rubber Manufacturers Association for the Three Peak Mountain Snow Flake (3PMSF) symbol. The A/T3W is packed with technology, from Falken's patented 3D Canyon Sipes to an all-new proprietary lower sidewall. Full-depth sipes and grooves maintain consistent performance and appearance throughout the life of the tire.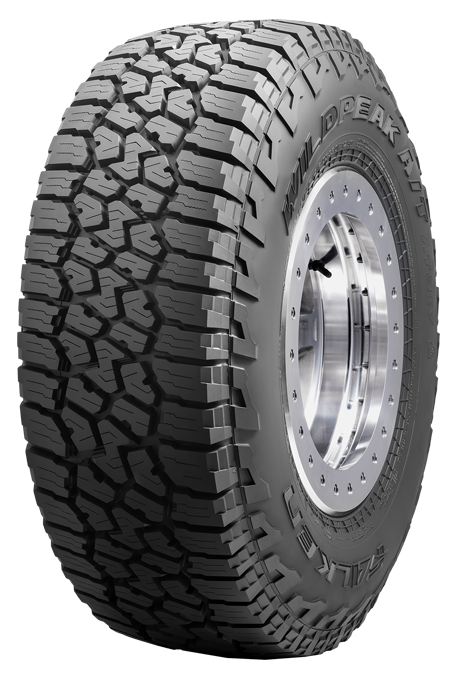 WILDPEAK M/T TIRE
Maximum Off-Road Traction Built for the Toughest Terrain
Trusted by the pros to take on the harshest conditions, the tough WILDPEAK M/T is built to get you there and back whether you're on the pavement, mud, snow or rocks. The M/T features Falken's proprietary three-ply DURASPEC™ Sidewall Technology developed to sustain the most punishing off-road conditions. DURASPEC™ also features two high ply turn-ups that provide an additional layer of protection and durability. An aggressive upper sidewall provides additional traction at low air pressures on rugged terrain. The WILDPEAK M/T also features exceptional road manners thanks to an optimized variable three-pitch tread pattern and precision manufacturing technology.